ICWF 2021 Lviv Participants
Mary Box

Mary Box has played over forty operatic productions throughout the United States. In February of 2021, Mary joins the music staff of Dallas Opera for the world premiere of The Diving Bell and the Butterfly with Emmanuel Villaume and Tosca with Keri-Lynn Watson and Le nozze di Figaro with Lidiya Yankovskaya.
Mary recently spent two seasons at Minnesota Opera playing nine operas, including two world premieres (The Fix and Edward Tulane) as a resident artist. She has also been on the music staffs of Opera San Antonio (chorusmaster), Sarasota Opera (assistant conductor), Wichita Grand Opera (head coach), Crested Butte Music Festival, Opera in the Heights (chorusmaster), Fargo- Moorhead Opera (assistant conductor), and Rice University.
As an orchestral keyboardist, Mary has performed with the Houston Symphony, San Antonio Symphony, Crested Butte Music Festival Orchestra, Rice University Opera Orchestra, Eastman Wind Ensemble, Lakes Area Music Festival Orchestra, and the Minnesota Opera Orchestra.
Mary has presented recitals with Karin Wolverton in Minnesota, and Barry Banks in Aspen, Colorado, as well as Ricardo Rivera-Soto and Thomas Glass in Houston, Texas.
A strong supporter of music education, Mary organized and presented over 60 outreach concerts as the Young Artist Program Director of Fargo-Moorhead Opera. She spent four summers as a pianist and coach for Art of Opera, a high school opera camp with Houston Grand Opera's HGOco. She also spent a summer on staff in Lucca, Italy playing for the Accademia Vocale Lorenzo Malfatti.
Mary holds a master's degree in vocal coaching from Rice University, a master's degree in piano performance from the University of Houston, and a bachelor's degree in piano performance from the Eastman School of Music.
Eli Chen
Noted for "polished and atmospheric performance" (Chicago Classical Review) as well as "bracing precision and subtlety" (The Classical Review), Eli Chen's work as a musician and conductor reflect his belief in the power of music to share beauty, ask questions, and explore humanity. His continued pursuit of these values has established him as a versatile artist and avid collaborator.
Eli Chen is equally as intrigued by contemporary voices in music as by the symphonic and operatic literature. He has partnered with the acclaimed Fifth House Ensemble on multiple genre-crossing projects, including Journey LIVE with Austin Wintory's Grammy-nominated score and the first U.S. tour of Mike Mills' Concerto for Violin, Rock Band and String Orchestra with Robert McDuffie. Eli Chen has conducted numerous student opera productions and most recently assisted on Der Fliegende Holländer and Le Nozze di Figaro at the Miami Music Festival. He has appeared as guest conductor with ensembles such as the Lviv Philharmonic Orchestra and the Berlin Sinfonietta. Eli currently serves as the Principal Conductor of the Ravenswood Community Orchestra, seeking ways of connecting meaningfully to local communities.
Mr. Chen is currently based out of the Chicago area where he directs the Trinity Community Philharmonic Orchestra at Trinity International University and also teaches at the Chicago Metamorphosis Orchestra Project. He received his Bachelor's degrees in Biochemistry and in Music at the University of Virginia, where he studied violin with David Sariti and conducting with Kate Tamarkin. He went on to receive his Master's in Orchestral Conducting from Northwestern University under the tutelage of Victor Yampolsky. Other influential mentors have included Mark Gibson, Larry Rachleff, and Donald Schleicher.
Davaron Edwards
The youngest of six children, all deeply involved with music-making, Davaron Edwards has been surrounded by music for as long as he can remember. Raised by a single working mother who, in her spare time, chaperoned many band trips, Davaron learned, through music and family, the importance of commitment, dedication, resilience, and love. Davaron's passion for music developed at Wayside Chapel Baptist Church, where he was an active member of the choir (tenor, then bass-baritone!), and Wilson High School, both in Florence, South Carolina. Davaron was involved in every possible high school ensemble and attributes his decision to become a music educator to his choir director, Mrs. Linda Gilliard-Johnson and his band director, Mr. Leon Harvey, who inspire him to this day. Like his mother, brother, and two cousins, he attended Hampton University in Hampton, Virginia and earned a Bachelor of Arts in Music Education.
Davaron earned a Master of Music in Instrumental Conducting in the studio of William Malambri from Winthrop University in 2012. He is currently pursuing a Doctor of Music Arts in Conducting with Cynthia Johnston Turner at the Hugh Hodgson School of Music, University of Georgia. At UGA, he is a graduate teaching assistant and the chair of the Diversity, Equity, and Inclusion Committee within the Graduate Student Association.
Davaron has ten years of varied secondary public school teaching experience in Pennsylvania, Maryland, and South Carolina. His professional affiliations include the National Association for Music Education (NAfME); Georgia Music Educators Association (GMEA); College Band Directors National Association (CBDNA); and Phi Mu Alpha Sinfonia Fraternity of America, Inc.
Clancy Ellis
A native of Merritt Island, Florida, Clancy Ellis is a blossoming young conductor and saxophonist. In Spring of 2020, he obtained a Bachelor's of Music Performance from the Eastman School of Music under Dr. Chien-Kwan Lin, with a minor in German Language through the University of Rochester. In addition to studying saxophone, Clancy studied orchestral and operatic conducting with Professors Brad Lubman and Timothy Long of Eastman and Professor Kenneth Kiesler of the University of Michigan. In 2019, Clancy made his conducting debut in Washington, Maine, directing members of the Portland Symphony Orchestra. He also has organized numerous student and professional ensembles to conduct in New York and Florida and has participated in conducting workshops across the United States, including the Medomak Conductors Retreat and the Schwob Conductors Workshop. In June of 2020, he began serving as a guest conductor to Music Director Aaron Collins of the Space Coast Symphony Orchestra. Since then, Clancy has conducted the Space Coast Symphony in several concerts during both the Summer and Fall concert seasons. Among his many awards, Clancy has received top prizes in solo and chamber music competitions, including the prestigious Fischoff National Chamber Music Competition and the MTNA National Chamber Music Competition. At Eastman, Clancy was a member of the Eastman Wind Ensemble and the Eastman Saxophone Project (ESP). Upon graduation, he was bestowed the distinction of high honors and was awarded the Cummins Prize for Excellence in Humanities by faculty at the Eastman School of Music.
Feliza Estrada
A genius polymath with a passion for music and an eye for color, Feliza uses her talents to transform musical masterpieces into beautiful artworks.
Feliza Estrada is a Filipino-American musician and visual artist. She has earned her Bachelor of Fine Arts degree from Colorado State University-Pueblo. She is currently working on her second degree, a Bachelor's in Arts degree in Music Performance.
Julian Gau
Julian Gau is a Boston-based conductor, currently studying for a Master's in orchestral conducting at the Boston Conservatory at Berklee. Born in New Jersey, he grew up as a pianist and cellist. He attended Brown University from 2015 to 2019, studying music and math; there he came to discover the art of conducting as a means of musical expression & community-building.
While studying at Brown, Julian was active as a conductor of orchestras and musical theatre productions. He acted as assistant conductor to the department-run Brown University Orchestra, and as conductor and founder of the student-run Brown University Chamber Orchestra. In the theatre, he directed West Side Story, Orpheus in the Underworld, The Soldier's Tale, and Into the Woods. Outside of school, he attended workshops led by teachers such as Larry Rachleff, Markand Thakar, and Kenneth Kiesler.
In addition to conducting, Julian has been active as a performer, composer, and community organizer. At Brown, he participated in chamber and orchestral ensembles as a pianist, cellist, and percussionist. His compositional efforts have included solo works, chamber pieces, and a one-act musical. He has also worked to foster community by creating and participating in music ensembles and social organizations. Since the pandemic, in addition to studying, he performs music live on Twitch and continues to organize virtual music projects. Outside of music, Julian enjoys reading modernist novels, cooking vegan meals, and nurturing friendships.
Cutter González
Cutter W. González is an active musician and geographer. He is passionate about sharing the joy of music and celebrating music's unique ability to break down barriers and bring people together. This passion led him to found and serve as President of Musikverein New Braunfels. This not-forprofit organization provides free and reduced-cost musical instruction to students of all ages, backgrounds, and levels of experience in the New Braunfels, Texas, area. Cutter is a second bachelor's student at Texas State University, where he studies Horn Performance. He has been recognized for his scholarly and musical achievements as a member of the Texas State Symphony Orchestra, recipient of School of Music scholarships, member of the Council of Scholars in the College of Fine Arts and Communication, and in the Honors College. He regularly organizes and conducts volunteer ensembles of various instrumentations to perform major works outside of institutional ensemble commitments. In addition to maintaining a full performance schedule, Cutter volunteers as a citizen scientist, serves on multiple boards and commissions for the City of New Braunfels, and writes on urban and environmental policy in Texas.
Nathan Howard
Nathan Howard is a multi instrumentalist, educator and conductor from Dallas, TX. He completed his Bachelors of Music degree Samford University, where he studied jazz and classical saxophone, flute, and clarinet. He completed one year of graduate work at the Indiana University Jacobs School of Music before an injury cut his performance career short. As an educator Nathan maintained an active studio and acted interim Professor of Saxophone at Samford University. As an ensemble leader he has served as the Music Director for The Camp-ofthe-Woods Jazz band and combo, and has conducted the Samford University Orchestra, Wind Ensemble, and a lab orchestra at Southern Methodist University. His conducting teachers include Paul Phillips and Brian Viliunas, and his instrumental teachers include Otis Murphy, Howard Klug, Sallie White, Barbara Harrington, and Brian Viliunas.
Iman Khosrowpour
Conductor, violinist, educator and scholar, Iman Khosrowpour's career has enjoyed a uniquely multi faceted trajectory. He is Conductor and Artistic Director of the Irvine Valley College (IVC) Symphony Orchestra in Southern California, annually leading several concerts as well as with The Ill-Tempered Chamber Players, the Baroque-sized ensemble he founded in 2013. In addition to performing the great symphonic literature of Mozart, Beethoven, Schubert, Brahms, Bruckner and others, the orchestra has given several world premieres of local composers and IVC students and faculty. In 2016 Iman made his conducting debut at the world-renown Renée and Henry Segerstrom Concert Hall. In January 2020 he conducted the Southern California School Band and Orchestra Association Middle School Symphony Orchestra at the SCSBOA Conference, and in February 2020 the Capistrano Unified School District High School Honor Orchestra at Segerstrom Hall.
A passionate educator, Iman is in high demand as an orchestra clinician and adjudicator. He has presented seminars on string pedagogy at conferences, is an active member of the Conductors Guild and has participated in their workshops in New York City and Montréal. He has organized annual strings masterclasses for the Music Association of California Community Colleges Conference with faculty from San Francisco State University, University of California San Diego, and California State University Long Beach.
Iman maintains a successful private violin/viola studio and teaches violin as well as music history at IVC, and has been on the faculty at the prestigious Orange County School of the Arts. With his extensive knowledge of the orchestral repertoire, his students have been members and concertmasters of numerous regional honors youth orchestras: All-Southern California and All-State Honors Orchestras, Orange County School of the Arts, Pacific Symphony Youth Orchestra and Orange County Youth Symphony, as well as winners of regional and international competitions. They have performed at Carnegie Hall, Sydney Opera House and Segerstrom Hall, and continue studies at such prestigious institutions as Columbia University, Princeton University, Northwestern University and the University of Toronto. In 2015 he founded the Irvine Music Festival, a world-class intensive summer program for dedicated young musicians, now in partnership with Concordia University Irvine and debuted as an international festival in 2019. Guest artists include principal players from the LA Philharmonic and faculty from the University of California Los Angeles, University of Southern California and the Colburn School.
Iman made his violin concerto debut as with the Pacific Symphony Orchestra under the baton of Carl St. Clair at the age of sixteen. A recipient of the highly competitive Orchestra Fellowship at the Aspen Music Festival, he has played under the batons of maestros James Levine, David Zinman, Alan Gilbert, David Robertson and Hugh Wolf, and has performed for U.S. President Bill Clinton. Iman has given solo and chamber music concerts and masterclasses in Japan, Korea, Canada, Brazil, Czech Republic, Germany and throughout the United States.
Committed to encouraging new music, he gave the world premiere of the Daniel Luzko Violin Concerto in Asunción, Paraguay. He performed the Mendelssohn Violin Concerto with the Czech Virtuosi Orchestra in Brno, Czech Republic. and recently performed Mozart Violin Concerto No. 5 with the Ensemble Wienklang at the Konzerthaus in Vienna, Austria.
Born in Tehran, Iran, Iman's family immigrated to the United States when he was two years old. He began violin studies at age of eleven and quickly displayed promise, only two years later becoming a pupil of Erick Friedman, prized pupil of Jascha Heifetz. During his violin studies at the Peabody Iman took classes in orchestral conducting with Frederik Prausnitz and also participated as concertmaster for the Conductors Retreat at Medomak under Kenneth Keisler. He has studied the orchestra repertoire with the concertmasters of the Boston Symphony Orchestra, LA Philharmonic and Dallas Symphony Orchestra, and has closely observed rehearsals of maestros Gustavo Dudamel, Esa-Pekka Salonen, Lorin Maazel, Zubin Mehta and Philippe Jordan with the LA Philharmonic. Iman holds music degrees from the Peabody Institute, Rice University and New England Conservatory, and also received a Masters of Arts Degree in East Asian Studies from Harvard University, writing an award-winning thesis paper on the film music of Japanese composer Toru Takemitsu.
Euntaek Kim
Hailed by The New York Times as "nimble" and "colorful," a Korean-born American pianist and conductor Euntaek Kim is receiving worldwide recognition for his work. Mr. Kim began his piano lessons at the age of three and was admitted to the preparatory division of the Korean National University of Arts when he was nine. At twelve, he took his first conducting lesson and gave his first public piano recital in Seoul. A year later, Mr. Kim emigrated to the United States in order to continue his piano studies at The Juilliard School Pre-College Division.
Mr. Kim has been awarded numerous prizes in competitions worldwide, including The Center for Musical Excellence Grant, The Tchaikovsky International Competition for Young Musicians, and The Oberlin International Piano Competition. As a concert pianist, Mr. Kim has made solo appearances in venues across the globe, including Belgium, Canada, China, Italy, South Korea, and the United States. As a chamber musician, Mr. Kim has collaborated with members of Enso, Escher, Parker, and Ying quartets. Mr. Kim's collaborations with Heartbeat Opera and Cantata Profana, based in New York City, in their modernized rendition of Beethoven's Fidelio in May 2018 was praised by The New Yorker, The New York Times, and The Wall Street Journal. Mr. Kim's tantalizing appearances in June 2018 at the catacomb of Green-Wood Cemetery in Brooklyn, NY, as a part of the world premiere of David Hertzberg's new chamber opera The Rose Elf, were lauded by WQXR as "the best opera event of 2018."
Mr. Kim's exquisite performances can be heard in his debut solo album, "Debut – CME Presents Vol. 3: Russian Piano" under the MSR Classics label, as well as in "Hertzberg: The Rose Elf" (under Meyer Media LLC) and "The Wake World" (under Tzadik label). Mr. Kim holds his Bachelor's and Master's in piano performance from The Juilliard School, and the Artist Diploma from Yale University. His mentors include Boris Berman, Min Kwon, Jerome Lowenthal, and Jeffrey Milarsky.
Yohan Kwon
Yohan Kwon currently serves as a Solorepetitor mit Dirigierverpflichtung (Staff PIanist with Conducting Duties) at the Schleswig-Holsteinisches Landestheater, and has been based in Flensburg since the 2020/21 season. Born and raised in the United States, Yohan earned degrees from the Indiana University Jacobs School of Music (Piano Performance) and the Cleveland Institute of Music (Orchestral Conducting), where he self-organized several student orchestral performances with fellow students and various soloists. Among his teachers/mentors are Arthur Fagen and Carl Topilow.
Kenny Lee
Cellist and conductor Kenny Lee has been praised for his "lyricism, drive, tenderness, and passion" (The Times Argus). He has concertized throughout North America, Europe, and Asia as a recitalist and a chamber musician. He has won top prizes at the New York International Artists Competition, Hudson Valley String Competition, Borromeo Guest Artist Competition, Eastman Concerto Competition, and New England Conservatory Honors Chamber Music Competition as a founding member of the Gioviale Quartet. He has given solo and chamber recitals in venues such as Carnegie Hall, Boston's Jordan Hall, and Eastman Kodak Hall. Dr. Lee has appeared as a concerto soloist with several conductors, including with Giancarlo Guerrero, Neil Varon, and William Drury.
Festival appearances have included Rockport Chamber Music Festival, Thy Chamber Music Festival in Denmark, Kneisel Hall Chamber Music Festival, Taos Chamber Music Festival, and Piatigorsky International Cello Festival. Dr. Lee has performed with the members of the Juilliard, Ying, and Borromeo Quartets and also with the principal players of the Berlin Philharmonic. Dr. Lee is also a Co-Founder and Artistic Director of the Flatirons Chamber Music Festival held annually in Boulder, Colorado.
As a conductor, he has won first prize at the seventeenth International Conductors Workshop and Competition. He has recently worked with Midcoast Symphony Orchestra, Exeter Symphonia, Gwinnett Symphony Orchestra, and Orlando Philharmonic.
Dr. Lee has held teaching positions at Stetson University, Phillips Exeter Academy, and has given masterclasses at Dartmouth College, Massachusetts Institute of Technology, and Keene State College. His former students have been accepted to the Manhattan School of Music, Harvard University, New England Conservatory, Cleveland Institute, and Peabody Conservatory. He is currently the Assistant Professor of Cello and Director of Orchestral Activities at Western Illinois University.
Dr. Lee studied cello with Laurence Lesser, Paul Katz, Lluis Claret, Steven Doane, Hans Jensen, and Steven Pologe. His conducting mentors have included William Drury and Charles Peltz. He holds a Bachelor's degree from the Eastman School of Music with the prestigious Celentano Award in Excellence in Chamber Music and Master and Doctoral degrees from the New England Conservatory with honors.
Joe Lerangis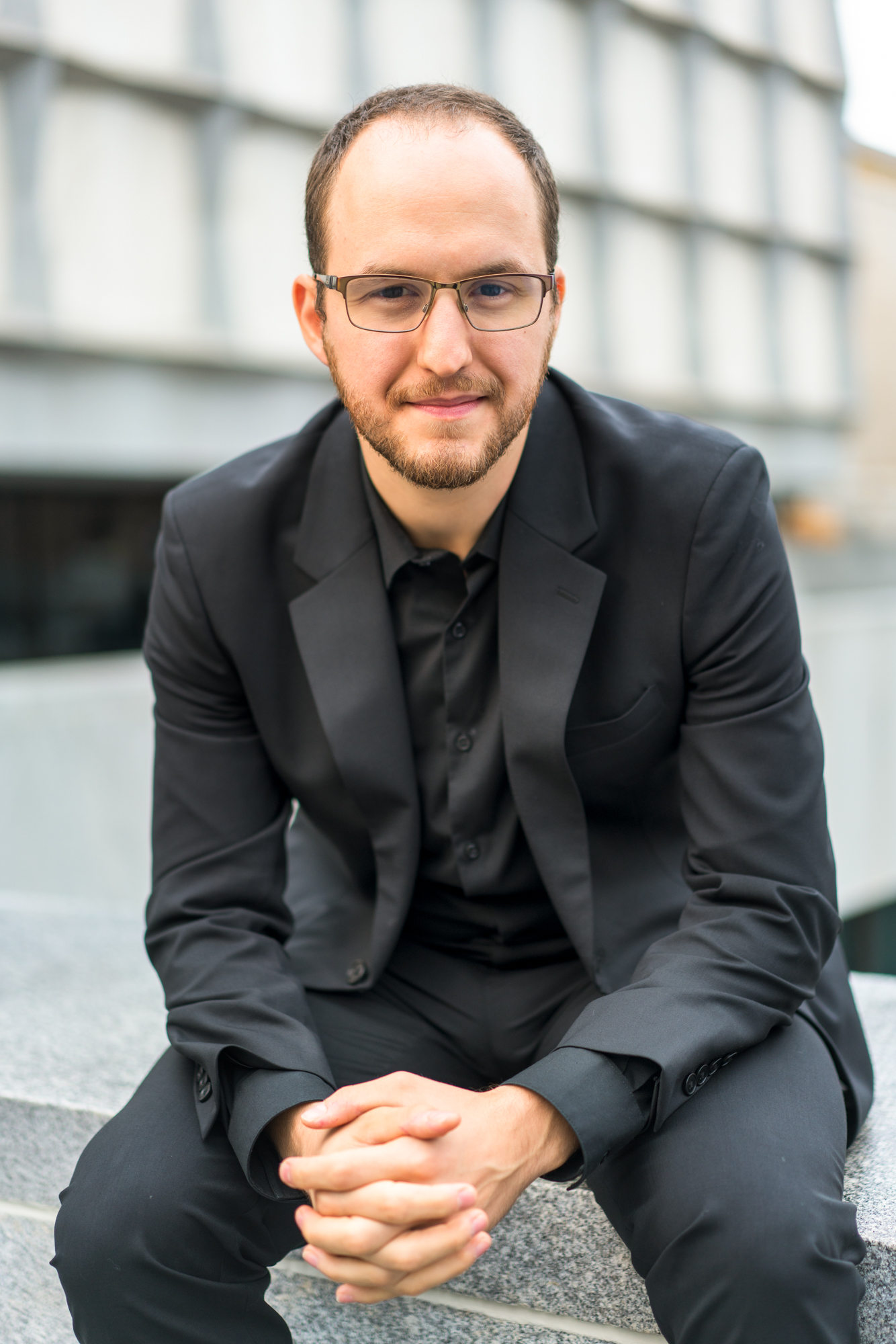 Joe Lerangís has appeared as a conductor and tenor both internationally and across the United States. In the past season, Joe was a guest conductor with the New England Conservatory Chamber Singers and served as Principal Assistant Conductor of Yale Camerata. Previously, Joe spent several years in Ulaanbaatar, Mongolia, completing a Fulbright fellowship, studying Mongolian music, teaching, and founding and developing youth choir, orchestra, and band programs in an international secondary school.
In 2017, Joe reached the final round of Mongolia's nationally televised pop idol competition and was awarded a prize from the Mongolian Ministry of Culture for engagement with and performance of traditional Mongolian songs. Currently in the second year of the DMA in Choral Conducting at Yale School of Music, Joe holds previous degrees from the Eastman School of Music, Johns Hopkins University's School for Advanced International Studies, Nanjing University, and Kenyon College.
John Moon
John Moon began the study of the violin and piano when he was six years old and continued advanced study with Vincent Frittelli, of the Galamian tradition. He holds his Master's Degree in classical violin performance from the University of Texas at Austin's Butler School of Music. Since leaving the University, he has explored new approaches to the violin, including study with Ali Akbar Khan, as well as other world musicians. He serves as the executive director of Global Harmony productions and executive producer for Atash recording projects. John is the Director of Orchestras and Chamber Music at St. Stephen's Episcopal School in Austin. He travels extensively to conduct, perform and teach, and has established a music school and summer program in Haiti. He also maintains an active performing schedule with many organizations, including the Austin Symphony Orchestra and the Austin Lyric Opera.
Ryan Mullaney
Conductor Ryan Mullaney has made a name for himself in music circles throughout North America. A native of Western Maryland, Ryan currently resides in Pennsylvania's Lehigh Valley serving as Assistant Professor of Fine Arts (Music) at DeSales University where he serves as Director of Choral Activities and Assistant Director of the Catholic Liturgical Music Scholars Program. He has previously served on the faculties of the McIntire Department of Music at the University of Virginia, leading the UVA Chamber Singers and University Singers, and at Whitworth University in Spokane, Washington where he led the renowned Whitworth Choir, Men's Chorus, and taught a senior seminar in choral techniques.

Now in its tenth anniversary season, Mullaney is co-founder and artistic co-director of Mountainside Baroque, an early music collective based in Western Maryland focusing on historically informed performances of music before 1800. As a Graduate Teaching Associate at the University of Washington, Mullaney served as associate conductor of the UW Chamber Singers as well as leading the Campus Philharmonia Chamber Orchestra, Men's Glee Club, and the World Voices Ensemble. Additionally, he served in the Music History Department where he taught courses in music history and music in culture. In addition to his University duties, he served as Chief Conductor of the Mercer Island Baroque Orchestra for their 2017-18 season.

?Before his departure to the West Coast, Mullaney spent four years as Director of Liturgical Music at Our Lady of the Mountains Catholic Parish in Cumberland, MD, supervising a staff of eight part-time musicians, 50 volunteers, and musical worship at five churches. Prior to this post in Cumberland, Ryan enjoyed a five-year tenure on the music staff at the Cathedral of Mary Our Queen in Baltimore, MD, serving as an assistant choirmaster, cantor, and section leader in the Cathedral Choir. As a graduate conductor in The Boyer College of Music at Temple University, he was named Elaine Brown Scholar in Choral Music. In addition to leading all choral ensembles over a two-year period, Mullaney maintained a professional singing career with the renowned choir of St. Clement's Church.

?Recent engagements have included guest appearances leading Seattle-based Queen City Musicians in performances of Handel's Ode for Saint Cecilia's Day and serving as chorus master and assistant conductor in Pacific MusicWorks' production of Magic Flute, for Grammy award winning music director Stephen Stubbs. Highlight performances in 2021-22 concert season include appearances with Mountainside Baroque leading a program featuring festive music of J.S. Bach, including the Ascension Oratorio (BWV 11) and Orchestral Suite No. 3 (BWV 1068) as well as an "All Beethoven" program, featuring Mass in C and Overture to Coriolan with guest orchestra, soloists, and the combined choirs of DeSales University.

?Mullaney is active from coast to coast, from his regular work as ensemble coach and adjudicator with choirs in the Seattle Public School District (WA) to his work as clinician with the Hanover (MA) Public School System. He has served on the board of the Allegany Arts Council, Queen City Performing Arts Development, and the Liturgical Music Commission for the Archdiocese of Baltimore. He is a member of the American Choral Directors Association, the National Collegiate Choral Organization, and the National Association of Pastoral Musicians among others.
Ryan holds the Doctor of Musical Arts Degree in Choral Conducting from the University of Washington, a Master of Music Degree in Choral/Orchestral Conducting from Temple University, and a Bachelor of Music Degree in Voice Performance from Towson University in Maryland.
For more information visit his personal website, or visit www.mountainsidebaroque.org.
Savannah Norton
Savannah Norton is a New York-based musician and founder of The Norton Sunwood Music Studio, located in Elmira NY. Savannah completed her degree in Music History & Literature from the Wheaton College Conservatory of Music in 2019, and is currently pursuing a Masters in Intercultural Studies from Fuller Theological Seminary. A native of rural Northeastern Pennsylvania, she began music lessons at the age of eight. At fourteen, she began playing the bassoon and later attended the pre-college division of the Mannes School of Music in NYC, studying with Leonard Hindell. Formal conducting endeavors began at age sixteen, including positions as a drum major and as a conductor at Mannes under Scott Jackson Wiley. During the 2018-19 year, Savannah served as the Conducting Intern & Executive Assistant for the Naperville Youth Symphony Orchestra, as well as the student honors conductor of the Wheaton College Symphony Orchestra and Wheaton College Concert Choir. Over the past few years, Savannah has studied conducting closely under the direction of Dr. Daniel Sommerville and Dr. John William Trotter. Her closest mentor, Dr. Jonathan Saylor has been an influential part of her development as a bassoonist and music historian. Her chamber music experience includes the Poulenc Sextet at Wheaton College and wind quintet music at Mannes. During her free time, Savannah enjoys traveling, hiking, and bird watching.

Read her Style Analysis "Living in the shadow: A closer look at Brahms and his first symphony"
Ian Ting Wai Pang
Ian graduated from the Mannes School of Music to receive his Master of Music, major in Clarinet in 2020. He studied clarinet with Charles Neidich and involved in the opera and concerts in the Mannes Orchestra as Principal Clarinet. During his studies at Mannes, he studied conducting with Professor Michael Charry and score reading with Robert Cuckson. He is also studying orchestral conducting privately with Scott Jackson Wiley. He formed an ensemble with friends and classmates as a director and conductor in New York City. In 2020, he was selected and attended as an interactive participant in the festival in the Orchestral Conducting Institute which was held by Miguel Harth-Bedoya.
He received his bachelor's degree from the Hong Kong Academy for Performing Arts. His teachers included Mr. Michael Campbell and Mr. Anthony Wong Chi Fai. He was involved in the opera production and concerts in the Academy Symphony Orchestra. He also played with the SAR Philharmonic Orchestra and he was the concertmaster in the Hong Kong Young Musicians' Wind Orchestra. He awarded the SAR Philharmonic Scholarship and Jackie Chan Charitable Foundation Scholarships.
He had attended the masterclass conducted by Andrew Marriner, Florent Heau, Julien Herve, Michel Arrignon, Andreas Ottensamer and Stephen Williamson. In summer 2017, he was selected as a member of the Asian Youth Orchestra and performed in many cities in Asia, the United States and Europe in the world tour. Also, after the world tour, the director awarded the Ella Cheong Outstanding Achievement Awards for two members and he was selected as one of the two members. He had also participated in serval music festival, such as the 6th Sarvar International Wind Orchestra Competition (2015), Hong Kong Winter Band Festival (2015) and Taiwan Clinic (2011).
Samuel Pang
Born and raised in Hong Kong, Samuel Pang (???) is a conductor, violist, educator, and worship coordinator. Samuel holds a Master of Music degree, a Bachelor of Music degree, and a Performer's Certificate from the Eastman School of Music. He currently studies at Regent College in Vancouver, BC.
Samuel has taught and performed in multiple cities in Asia, Europe, and North America. He has conducted symphony orchestras in prominent concert halls across the world, including the Musikverein in Vienna, Vigadó Concert Hall in Budapest, Smetana Hall in Prague, John F. Kennedy Center for the Performing Arts in Washington D.C. etc.

Samuel Pang studied conducting with Maestro Neil Varon at the Eastman School of Music. Samuel served as the Artistic Director of the Hong Kong Festival Orchestra from 2009-2011. From 2012-2015 and 2017-2020, Samuel served as the Orchestra Director of the DBS Symphony Orchestra. Radio Television Hong Kong broadcasted several of his award-winning performances on television, including Mahler Symphony No. 5, Shostakovich Symphony No. 5, Brahms Symphony No. 2, and Richard Strauss' Don Juan. Samuel has performed for David Zinman, Marin Alsop, Christoph Koncz, Kristjan Järvi, amongst other world-renowned artists, in conducting masterclasses. Samuel is experienced in both orchestral and choral conducting.

Samuel Pang studied viola performance with Carol Rodland at the Eastman School of Music. First prize winner of the Eastman Viola Concerto competition, Samuel made his concerto debut at the Eastman Theatre as a freshman. Subsequently, Samuel achieved a clean sweep of all the viola and chamber music school awards at the Eastman School during his Bachelor of Music degree program. Samuel has performed for Kim Kashkashian and Michael Tree in viola masterclasses.

From 2017-2020, Samuel served as a full-time religious studies teacher at the Diocesan Boys' School, an Anglican school in Hong Kong. Samuel was a regular homily speaker for assemblies, a Bible teacher, and a master-in-charge of the Christian Fellowship. After completing his contract with the Diocesan Boys' School, Samuel continued visiting various schools as a concert moderator, music educator, Bible teacher, and Liberal Studies teacher.

Samuel has many years of experience leading worship in contemporary and traditional church settings. He is fluent in music ranging from traditional hymns to modern hymns to contemporary praise music. Showers Of Blessing Evangelistic Ministry has made a documentary about Samuel's music ministry as part of an ongoing television series broadcasted to Chinese communities worldwide.
Samuel believes that, as written by J.S. Bach, "The aim and final end of all music should be none other than the glory of God and the refreshment of the soul."
Sejoon Park
Praised by the Philadelphia's Inquirer as an artist, "one could hardly heap too much praise for," Sejoon Park is a conductor and a pianist, born to cellist parents in Seoul, Korea. Mr. Park made his orchestral debut as a solo pianist with Korea's Busan Philharmonic Orchestra at the age of ten. Moving to United States shortly after, Mr. Park was featured on Washingtonian Magazine as "Best of 2004" and his performance was broadcasted on NPR's "From the Top."
In his pianistic career, Mr. Park received top prizes from the New Orleans International Piano Competition, the PianoArts Competition, the Southeastern Piano Competition, and the King Award for Young Artists. He is the winner of 2014 Astral Artists Audition.
In 2019, Mr. Park was accepted as a graduate candidate of orchestral conducting program of Professor Ruediger Bohn at the Robert Schumann Musikhochschule. Shortly after, he has conducted the Robert Schumann Hochschule Orchester in concerts, as well as leading the rehearsals of Neue Philharmonie Westfalen, and Uni-Orchestra of Bonn. In February of 2020, he led the Dinu Lipatti Philharmonic of Satu Mare, Romania, in performance, and conducted the world premiere of "Ga, Na, Da," by Korean composer, Nayoung Yook in Duesseldorf. Mr. Park has participated in conducting masterclasses with renowned professors, Christian Ehwald, Sigmund Thorp, Larry Rachleff and Mark Gibson. He was an active participant of Jeunesses Musicales Bucharest Conducting Masterclass in 2018.
As a versatile musician, his recent performances include his solo recital in Philadelphia, which was broadcast in its entirety on WWFM Radio, and he has appeared on stages of Lincoln Center's Alice Tully Hall, Merkin Hall, the Kennedy Center, and the Benedict Music Tent in Aspen, Colorado. He appeared as the soloist with the Louisiana Philharmonic Orchestra, the Salina Symphony, the South Carolina Philharmonic, and the Milwaukee Symphony Orchestra. Mr. Park's performances have been broadcasted on WQXR, WWFM radio.
Mr. Park holds Bachelor of Music and Artist Diploma degrees from the Peabody Institute of The Johns Hopkins University and Master's degree from the Juilliard School in Piano Performance.
Tyler Readinger
Tyler Readinger, a native of Reading, Pennsylvania, has quickly gained traction as a versatile young conductor. He has collaborated with world-class artists such Kurt Nikkanen and Maria Asteriadou, as well as many student, faculty, and guest performers and composers from the Jacobs School of Music, Cincinnati College-Conservatory, Curtis Institute of Music, Manhattan School of Music, and Kutztown University. He has previously served as assistant conductor of the Reading Philharmonic Orchestra and has been invited to guest conduct groups such as the Reading Pops Orchestra, Stamford Young Artists Philharmonic, and Bloomington Symphony Orchestra. Currently a doctoral student studying under Arthur Fagen and Thomas Wilkins at the Jacobs School of Music of Indiana University, he has also studied briefly with conductors David Neely, Christian Capocaccia, Georgios Vranos, Gavriel Heine, Willis Rapp, and numerous others. Tyler was a fellow of the Conductors Institute of South Carolina, where he worked with renowned conductors Donald Portnoy, Peter Jaffe, and Jorge Mester, along with composers Victoria Bond, Samuel Jones, and John Fitz Rogers. He has also participated in other summer programs such as the Beyond the Baton conducting seminar with conductor Diane Wittry. His enthusiastic versatility on the podium has him working comfortably in a wide variety of styles and genres, from classical to contemporary music, symphonic to pops literature, as well as many others. He also is an avid conductor of film music both in live-to-picture screenings, premieres, and recording sessions, working with composers from the Hollywood an BBC film industries such as Larry Groupé and Neil Brand.
As an accomplished clarinetist he has performed regularly as an ensemble, chamber and solo musician regionally, nationally, and internationally. He has appeared with the Reading Pops Orchestra, Penn Symphony Orchestra, Northern Lights Festival Orchestra, Allentown Band, and many others. A former student of Soo Goh, Tyler has performed in master classes for Mark Nuccio, Kevin Schempf, Barbara Venetikidou, Michele Gingras, Christopher Nichols, and Tim Bonenfant, and has also studied briefly with Miltos Mumulides, Rie Suzuki, and Julie Beth Drey. He has been a participant in multiple festivals such as the Cape May Piano Festival, Northern Lights Music Festival, and Kutztown University Summer Chamber Music Festival, and PA Intercollegiate Band Festival.
Tyler holds a Master of Music degree in orchestral conducting from Indiana University, and a Bachelor of Science degree in music education from Kutztown University of Pennsylvania. A continuous strong advocate of music education to all ages, communities, and backgrounds, Tyler has served in the College Music Society as the first student member on the organization's executive board of directors. His strong love for connecting with various communities and sharing the passion and joy for music recently had him working as music educator and private instructor within communities of the Dominican Republic, Haiti, and Kenya.
Thor S Sigurdson
Thor Sigurdson received his bachelor's degree in cello from The Juilliard School as one of the final students of the great Leonard Rose. Upon graduation, he was among the very first cellists selected by Michael Tilson Thomas to perform in Miami's celebrated New World Symphony, an ensemble with which he performed and toured internationally for three seasons. He was subsequently hired as Associate Principal Cellist of the Florida Philharmonic, a post he held for 13 years, finishing his tenure as Principal Cellist.
While at Juilliard, Thor studied conducting with Ronald Braunstein and attended classes with Jorge Mester and Otto Werner Muller. During his two summers as a fellow at Tanglewood, he also audited classes with Leonard Bernstein and Seiji Ozawa, among many others. He went on to conduct several ensembles in South Florida, including one comprised of his colleagues from the Florida Philharmonic on a concert that featured Appalachian Spring.
As a soloist and chamber musician he was a finalist in both the National Society of Arts and Letters Cello Competition and the Osaka International Chamber Music Competition, among others. He's also a veteran studio musician whose cello solos appear on songs by artists such as Gloria Estefan and Collective Soul.
He and his family currently live in Ann Arbor, Michigan, as his wife completes her PhD. In addition to his continued pursuit of a solo cello and conducting career, Sigurdson is passionate about teaching Suzuki cello and bass students as young as three. In addition to his Juilliard degree, he has an MBA from the University of Chicago, and he intends to apply his business skills toward innovating and modernizing music education in the United States.
Rebecca Smithorn
Rebecca Smithorn is the Assistant Conductor of the Baltimore Chamber Orchestra, Cover Conductor for the National Philharmonic, and the Artistic Director of Ensemble 4-33. With the Baltimore Chamber Orchestra, she has created The Listening Lab, an educational residency and concert program described as "interesting and ingenious" and selected for inclusion in the Johns Hopkins Social Innovation Cohort. With Ensemble 4-33, she has conducted, performed, and reconstructed works by Pauline Oliveros, Yoko Ono, John Cage, Bill Drummond, Earle Brown, Joanna Bailie, and others. She is also the creator, curator, and conductor of SoundWebs, a concert series that explores wordless music, ambient sounds, and the ways they intersect. She has been a finalist for fellowships with the New World Symphony, the Chautauqua Institute, and the Royal Opera House at Covent Garden, and she was nominated for the Conductor's Guild Thelma A. Robinson Award for promising young conductors. A first-generation college graduate, she is committed to music education without barriers. She has been a teaching artist with MyCincinnati and the Baltimore Symphony Orchestra's OrchKids.
Rebecca completed graduate studies in orchestral conducting at the College-Conservatory of Music, where she studied with Mark Gibson, and the Peabody Conservatory, where she studied with Marin Alsop and Markand Thakar.
Joseph Wilkins
Joe A. Wilkins is an American Tubist, Composer and Conductor currently serving as Assistant Conductor to the Ball State University Symphony Orchestra, where he currently pursues his master's degree in Orchestral Conducting. Joe recently received his Bachelor's in Music from Central Michigan University, where he studied Tuba Performance as well as Orchestral Conducting. At Central Michigan, Joe was an Apprentice Conductor to the CMU Symphony Orchestra, and Assistant Conductor to the CMU Concert Orchestra and New Music Ensemble. While studying at CMU, Joe has volunteered as a Substitute Conductor with various musical ensembles throughout Mid Michigan. Joe received an Honorable Mention in the 2019 Paul Willwerth Brass Award Competition as a tubist. In early 2020, Joe was chosen to be a Conducting Fellow with the Pierre Monteux Winter Workshop in New York City. Joe has had the opportunity to study tuba performance with top tier tubists such as Matt Lyon, Mark Cox, Roger Bobo and Carol Jantsch. He has studied conducting with Dr. José Luis Maúrtua and Doug Droste, and with Michael Jinbo at the Pierre Monteux Winter Workshop.
In addition to his undergraduate studies, Joe has served the Saginaw Bay Youth Orchestra as an Intern, and then as a Brass Instructor and Assistant Conductor, an institution which allowed him such performance opportunities as the Gregson Tuba Concerto, and Tchaikovsky's 4th Symphony with the Saginaw Bay Symphony Orchestra under the baton of Brett Mitchel.
As a composer, Joe has recently published Fantasy Duets for Low Brass , a compilation of chamber music for students of the tuba, trombone and euphonium. When Joe is not studying music, he can be found opening wine as a server at Ron Lahody's Trust Your Butcher Steakhouse.